Commercial Locksmithing
We Service all Melbourne Suburbs 24/7
North Tech personable locksmiths can visit your business premises any time of the day or night. They'll provide you with accurate and up-to-date knowledge on security systems and the legal requirements for you workplace.
We supply, install and provide education on a range of products including: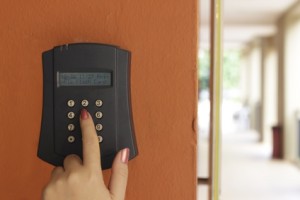 Restricted Master Key Systems
Commercial Grade Door Locks
Window Grilles
Padlocks, Gate Locks and Roller-door Locks
Door Closers
Alarms
CCTV
Safe Installation and Service
Car Park Cameras
Commercial Grade Levers and Handles
Commercial Grade Fire Regulated Locks
North Tech are committed to professional, personable service that delivers you the most competitive prices.  Through discussions with our team members you can design and install a modern security system, adding value to your business and peace of mind for you, your employees and your clients.
Call us now on (03) 8405 3002 for a free quote!